Hello and welcome to Central Station
This is the basic central connection for all of my wikia profiles and setups. If you're looking for me on a specific wikia, please click below to go there.
About Me
Interests: Video Games, Anime, Experimental Cooking, Law, Sociology
Some Favorite Movies: Doom , Kiki's Delivery Service , Wreck-It Ralph, 50 First Dates, Planes, Trains and Automobiles, All of the Back To the Future films, and all of the Matrix films (yes, all)
Favorite Games/Game Franchises: Disgaea, Tales of Symphonia, Borderlands and its two sequels along with its spinoff, Prototype and its sequel, nearly every game in the Sonic the Hedgehog franchise, and the Mario & Luigi franchise.
Top favorite anime/manga: Fruits Basket, Midori Days, R.O.D. The TV, and Full Metal Panic!
Well known and respected users: Implord , PyroGothNerd, DetectiveP, CouncilOrg
I have many friends on wikia, perhaps too many to list here.
Central Connection
Community Central, the central wikia hub for all Wikia activities. User.
Slenderman Wiki. Information encyclopedia regarding everything related to Slenderman Canon. Admin of 7 years. If you're reading this blog, you're already here.
Slenderman Series wiki. Collective Wiki regarding all blogs and video series Slenderman related. Founder.
Slenderman Games wiki. A compendium of all freeware games and budget games related to Slenderman. Founder.
A wiki for all non-canon Slenderman creations and stories. Founder.
A wiki for Slenderman RP. Does not have to be fear related, but should be Slenderman related. Feel free to use. Currently on hiatus personally, but still check it regularly. Founder.
Borderlands, one of my personal favorite gaming series ever. I frequent the wiki for advice, but am not an avid community member. Feel free to contact me here anyways. User.
MUGEN Database. A collection of all characters and stages for MUGEN and community maintained. Completely freeware. Be warned, download links on MUGEN Database often go to external sites. User.
Midori Days wiki. A cute little anime I love. The wiki fell on the backburner when I entered University, and I'm starting to revive it. Admin.
New Worlds Divided. Invited by one of the admins there. It's a quiet little community. User.
The Mega Man Knowledge Base. A great compendium of informationg Mega Man related. Personally proud that I wrote 90% of the Misadventures of Tron Bonne article. User.
[http://tales-of-fairy-tail.wikia.com/wiki/User:Fobarimperius Tales of the Fairy Tail wiki. Despite the name, it really doesn't have anything to do with the manga or anime (maybe it did at some point, but not anymore). It's a limited-rules RP site. Admin.
Additional links
Disgaea Card Player and Boss list. A small combat game I run with wikia members. Always looking for players. No money required or needed, no need for other website accounts. Just be a wikia member and contact me about it.
Quotes
Thank God for me-Jim Sterling
The truth of the world is failure is more common than success and that to succeed, you must therefore make someone fail in your place." -Anonymous
"Don't run, you'll only die tired. Instead, make them run to you so they get tired and miss." -Anonymous
"Afraid to lose control
And caught up in this world
I've wasted time, I've wasted breath
I think I've thought myself to death

I was born without this fear
Now only this seems clear
I need to move, I need to fight
I need to lose myself tonight" -Kongos
"Life may have no meaning. Or even worse, it may have a meaning of which I disapprove" -Asleigh Brilliant
"I wish I could shut up, but I can't, and I won't." -Desmond Tutu
"It's my duty as a human being to be pissed off" ―Eric Bogosian
"I won't insult your intelligence by suggesting that you really believe what you just said." -William F. Buckley Jr.
"Give me an idiot, and I have a stupid person I can trust for they cannot lie well. give me a hypocrite, and I have a stupid person i cannot trust as he honestly expects me to believe his words." -Anonymous
"The difference between a hypocrite, a moron, and an honest man? An honest man is always telling the truth, a moron always lies, and a hypocrite does both but condemns the other two for lying." -Anonymous
"Swearing doesn't make your argument valid; it just tells the other person you have lost your class and control." -Shannon L. Alder
"I do not believe in taking the right decision, I take a decision and make it right." -Muhammad Ali Jinnah
"As if on a conveyer belt, there will be a never ending supply of idiots and jerks that come and go in your life. Whether you stop the belt to dance with any one of them is up to you." -Dan Pearce
"The world is a game of chess; the loser loses and the winner wins." - Jamal al-Din al-Afghani
"It is not the religious beliefs, whether right or wrong, which are opposed to culture and material progress, but that belief which prohibits learning of sciences, earning one's livelihood and the ways of culture. I do not believe that there is any religion in the world which opposes these things. I would rather say that it is non-believing which inevitably leads to disorder and distortion of culture as in the case of the Nihilists." - Jamal al-Din al-Afghani
"The genius of you Americans is that you never make clear-cut stupid moves, only complicated stupid moves which make the rest of us wonder at the possibility that we might be missing something." - Jamal abdel Nasir
"I have been a conspirator for so long that I mistrust all around me." - Jamal abdel Nasir
"He who can not support himself, can not take his own decision." - Jamal abdel Nasir
"Politics is when you say you are going to do one thing while intending to do another. Then you do neither what you said nor what you intended." - Saddam Hussein
"You cannot continue to victimize someone else just because you yourself were a victim once—there has to be a limit" ― Edward W. Said
""We can not fight for our rights and our history as well as future until we are armed with weapons of criticism and dedicated consciousness." ― Edward W. Said
"America was founded on the concept of F*** you. That is the American way." - Markiplier
"Why hath Fob forasken us?" "Because she is a cruel god!" - Spliser117 and Lord Dalek
"Anybody who likes writing a book is an idiot. Because it's impossible, it's like having a homework assignment every stinking day until it's done. And by the time you get it in, it's done and you're sitting there reading it, and you realize the 12,000 things you didn't do. I mean, writing isn't fun. It's never been fun. It's momentum, and once you get the momentum going, that's great, but it's a brutal experience in many, many ways. And when you're done, people tell you "Well, gee, I'm not interested." "Great, I'm glad I sat down and wrote this!" ― Lewis Black
You see, whether you can draw like this or not, being able to think up this kind of design, it depends on whether or not you can say to yourself, 'Oh, yeah, girls like this exist in real life. If you don't spend time watching real people, you can't do this, because you've never seen it. Some people spend their lives interested only in themselves. Almost all Japanese animation is produced with hardly any basis taken from observing real people, you know. It's produced by humans who can't stand looking at other humans. And that's why the industry is full of otaku! - Hayao Miyazaki
Gallery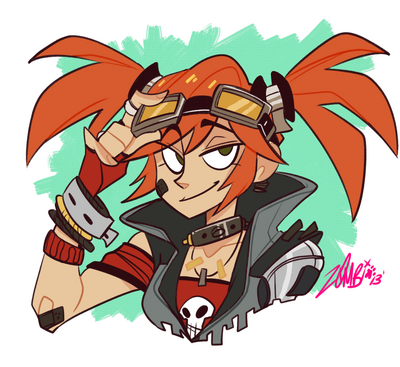 If you need anything, head on over to my talk page on The Slenderman Wiki. I check that one regularly.
Mugen
Standard
| Rank 0: Shadow Omega | |
| --- | --- |
| Rank 1: Omega Zero | |
| Rank 2: Lilith | |
| Rank 3: Copy X | |
| Rank 4: China Kohaku | |
| Rank 5: Toejam and Earl | |
| Rank 6: Giygas | |
| Rank 7: Parace L'sia | |
| Rank 8: Mildred Avallone | |
| Rank 9: Alex Mercer | |
| Rank 10: Dr. Weil | |
| Rank 11: Hotel Mario and Hotel Luigi | Link to Video |
| Rank 12: Kira Daidoji | |
| Rank 13: Hatsune Miku | |
| Rank 14: Akiha Tohno | |
| Rank 15: Kazu | |
| Rank 16: Mr. X | |
| Rank 17: Iron Petra | |
| Rank 18: The Many Kings | |
| Rank 19: Bass.EXE | |
| Rank 20: Konoha | |
| Rank 21: Kamui Tokinomiya | |
| Rank 22: Saki Tsuzura | |
| Rank 23: Fiona Mayfield | |
| Rank 24: Angelia Avallone | |
| Rank 25: Yun Fang | |
| Rank 26: Clarice Di Lanza | |
| Rank 27: Catherine Kyohbashi | |
| Rank 28: Kannabi no Mikoto | |
| Rank 29: Mei Fang | |
| Rank 30: Elsa La Conti | |
| Rank 31: Dorothy Albright | |
| Rank 32: Lilica Felchenerow | |
| Rank 33: Weiss | |
| Rank 34: Heart Aino | |
| Rank 35: Scharlachrot | |
| Rank 36: Lieselotte Achenbach | |
| Rank 37: Mega Man X | |
| Rank 38: Petra Johanna Lagerkvist | |
| Rank 39: Maori Kasuga | |
| Rank 40: Nazuna Inuwaka | |
| Rank 41: Zenia Valov | |
| Rank 42: Yoriko Yasuzumi | |