The Obsession with Slender Man, is part of Slender Man communities including this one, although debatable in its origin. It is the main driving source of non-seer believers in researching and/or searching for Slender Man. Its side effects on people's lives can be catastrophic, as they may unintentionally isolate themselves from normal society and allow themselves to become prey for Slender Man.
Description
The Obsession has very little existing research into it as many people do not notice it, or they underestimate it. What it might be is the primary stage of a process by which people become Proxies, or it might simply be a human being's desperate need for truth and information.
It is possible that the Slender Man is responsible for this occurrence, so it can easily turn people into Proxies.
Signs
Indicators that a person has the Obsession are: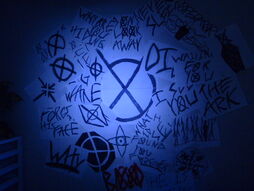 Drawing Slender Man symbols on themselves or their surroundings.
Irrational need to find/research Slender Man despite dangers.
Wanting to be a Proxy.
Emotional love/worship of Slender Man.
ADMINS NOTE: MOST OF THESE SYMPTOMS ARE ALSO MERELY SYMPTOMS OF BEING AN OVER HYPED FAN OF SLENDERMAN. See section below for details.
Alternative Explainations for Behavior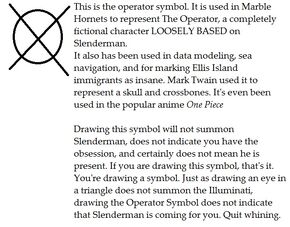 It should be noted that many of the "symptoms" are similar to symptoms of merely being a fan, causing confusion for some Slenderman fans.
Drawing the symbols is like drawing fan art (including drawing the symbols. For example, members of the Harry Potter fandom often draw the Deathly Hollows symbol on themselves and their surroundings)

It should also be noted all Slenderman Symbols are fan made for ARGs, meaning there is no logical reason for Slenderman to cause people to obsessively draw the symbols.

Wanting to research Slenderman is often natural curiousity rather than obsession.
Wanting to be a Proxy often comes as a misunderstanding of how proxies work. Most people who want to be proxies do not understand that proxies are essentially slaves, and mistakenly believe proxies receive special treatment.
Loving/worship of Slenderman is often either flat-out fangirling, or in extreme cases something in need of psychiatric help.
Gallery