KindVonDerRitter

'

Names

KindVonDerRitter

Identity

Slender Man Worshiper

Appearances

Origins

218 (KVDR's First video)
Kind Von Der Ritter is a man from the DarkHarvest00 ARG. Though not much is known about him, it is known that he "worships" Slender Man as a god and has been driven insane by his obsession. However he's not a proxy since he merely worships the Slender Man but wishes to become one himself.
He has been following Chris and Alex since the very beginning of the series. He uploads strange and disturbed videos to his YouTube channel and appears to have the ability to travel through/control time. It is assumed that the bathrobed figure that the boys have seen on several occasions is the one uploading these videos, as shown by one of the videos, entitled 218.
As of "Daniel Shipman's Visits" series, it is suspected that KindVonDerRitter is Marc McComber.
Actions and Appearances
Name Meaning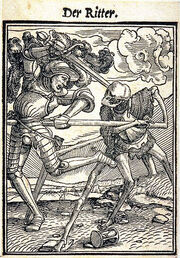 'Kind Von Der Ritter' is German for 'Child Of The Knight'. The Knight, more commonly refered to by his German name, is believed to be a being similar to the Slender Man, or the Slender Man itself.
It has to be noted that 'Kind Von Der Ritter' is technically wrong grammar, unless it is actually referring to the woodcut and not to the shown entity. The German grammar uses different articles for each case and "The" would be translated into "Dem".
Community content is available under
CC-BY-SA
unless otherwise noted.