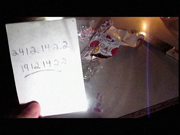 CaughtNotSleeping is a YouTube ARG launched in March 2011 about Slender Man. Begun on a modest scale, it has quickly evolved into one of the more unusual and well-known Slendervlogs currently in production, and is one of the largest series about Slender Man outside the top 5 ARGs. At first employing such common tropes as proxies, the Operator Symbol and video distortion, the series now features a highly ambitious use of props and an increasingly surreal narrative incorporating intricate puzzles. The odd, often dreamlike quality of the videos has led to some comparisons to Silent Hill.
Series Runthrough (incomplete/in progress)
Series spoilers included. CaughtNotSleeping begins as a personal YouTube vlog by a young man (who remains unnamed, leading viewers to dub him Caught) suffering from chronic fatigue and exhaustion, even though he sleeps a normal eight hours each night. His general demeanor is one of agitation and sarcasm. After learning that he has been referenced in a strange YouTube video by a user named RoivasSevil ("SaviorLives" in reverse), Caught begins to think he is being taunted and stalked by a Slender Man fan, especially when numerous Operator Symbols appear in the alley outside his apartment building, drawn in chalk. Videos by Roivas include cryptic messages presented in a simple backwards-number substitution cipher (where A=26 and Z=1).
Caught becomes increasingly angry and nearly manic. He mocks his supposed stalker by drawing his own Operator Symbol in the alley and laying a $20 bill in the center of it, joking that he hopes Slender Man will use it to "buy some Slim-Fast," or perhaps that some lucky hobo will just take it. Returning to the spot after dark, he finds the cash still where he left it, with his Operator Symbol covered in  fluid that resembles blood. At the moment of this discovery he has a close-up encounter with Slender Man.
Caught's next video — following another from Roivas accusing him of "lying to his new friends" — shows him alone, in a dark room, wearing a haggard, haunted expression and confessing in a barely audible voice that he has in fact been having encounters with Slender Man for some time. A clip from a video recorded by him some time prior to the series' launch is played, in which Slender Man is briefly glimpsed. Caught hints that his anger and sarcastic behavior was his way of trying to hide from the reality of his life, and pleads for help from his viewers.
When RoviasSevil posts a video stating "Learn to Play," Caught decides to look for clues by visiting seven local playgrounds. However, he fails to find anything, until he is walking home. He finds a dollhouse surrounded by candles, where an audio recording is played, stating "To go up you fall, doors , less inviting then walls, when to stop you go, to not drown, follow the undertow, kill to heal, numb to feel, best to put your hope in whats unreal, the innocent to blame, the successful ashamed, in a world insane how would one empty, a drain?"
Community content is available under
CC-BY-SA
unless otherwise noted.